Yoga is for everyone. Through Agastya we aim to
reach the ones who are not as privileged as we are!

Sponsor Today!
What We Do
Agastya is a Yogi Re initiative to bring yoga to underprivileged sections of the society in a sustainable way. So far, we have been conducting Isha Hatha Yoga programs in 3 schools/orphanages/special kids institutes, changing 350+ young lives!

We engage with institutions in following manner—

✢ Conduct 4 yoga sessions/year for the underprivileged children
✢ Following up with institutes to ensure yoga becomes a part of their daily schedule
✢ The sponsors would be able to receive updates about how their contribution is making a difference

Our engagement is with following schools so far—

1. Round Table School - 200 kids
2. Anatha Shishu Ashram - 70 kids
3. Special Kids School in Ballari - 70 kids

Get Involved!
You can get involved in various ways, please go through a handy list below. Once you've decided how you'd like to help us, just tap on the "Get involved" button at the bottom of the section!
1. Be a Sponsor!

As Sadhguru says, make your life into a 'giving', an utlimate transaction!

You can make a significant change in a child's life with just ₹500 per year! You would also be able to get timely updates from our end re how your contribution is making a difference.
2. Be a Volunteer!

A very touching experience that could fire up the life within you!

If you'd like to get involved as a Volunteer, please mention how much time are you willing to contribute. Volunteers could help us during the Yoga program and also be involved with activities like following up with the schools etc. to ensure that yoga is happening as part of their daily schedule, visiting kids once in a while for updates etc. We will be able to get in touch with you as and when the need arises!
3. Be an Organizer!

Bring Agastya to your institute!

If you work at such institute and want to spread the joy through Yoga, do get in touch. Or if you know an institute that would love to bring Agastya to their abode, put us in touch with them! Any help is appreciated!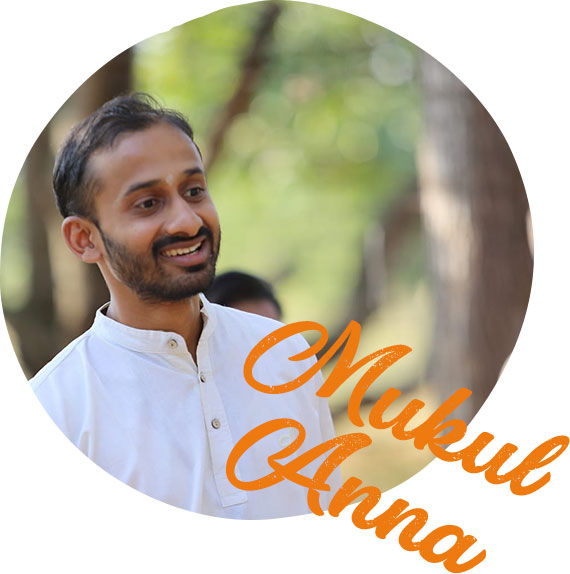 Namaskaram from Mukul Anna!
Agastya has been conceived by Yogi Re — an initiative started by Mukul to bring at least an element of being a yogi in everyone's life.

Mukul underwent intense teacher training designed by Sadhguru, founder of Isha Foundation, and has personally conducted 350+ workshops across Bangalore in the last 4 years, touching over 6000 lives!
Yogi Re WhatsApp Group
We have a WhatsApp broadcast group where you can get daily yogic updates.You can also get information on upcoming Isha & Yogi Re programs. If you'd like to be added to the group, please tap the link below.
Let Me In!